Burgreens
Our inspiring Generation T awardee Helga Angelina has successfully transformed the healthy-eating scene in Jakarta through Burgreens, Jakarta's first organic healthy plant-based eatery and catering. Together with her partner Max, they have now opened five Burgreens restaurants around Jakarta so that everyone gets better access to healthy, organic food.
SaladStop!
With their tag "Eat Wide Awake", Salad Stop is not just any regular healthy food chain in Asia. Its message is to let people become more aware of the food that they consume, including the sources of their food. With its clear mission and detailed explanations of food nutrients, eating healthily has never been easier.
Dharma Kitchen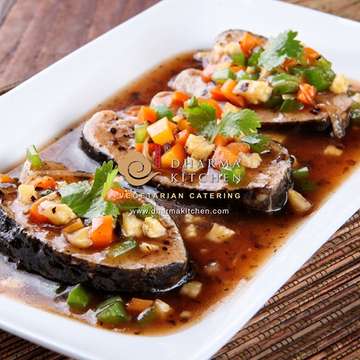 Hailing from Buddhist teachings, this vegetarian restaurant is not only healthy but delicious. The restaurant focuses more on family crowds, with a menu that seemed endless as we flipped through the pages. It is full of various kinds of cuisines that, at first glance, seem like the "real thing", but are actually made with plants. With various locations now in North and West Jakarta, hopefully Dharma Kitchen will spread its wings soon to the South.
Vegetus
This Chinese vegetarian restaurant is similar to Dharma Kitchen, with its wide selection of dishes that utilise fake meat made of soybeans, mushrooms, and other plant-based ingredients. With locations in North Jakarta and Alam Sutera, Vegetus is a good choice for a healthy lifestyle for sure.
Honu Poke and Matcha Bar
In genius fashion, Honu offers its heart-healthy poke bowl menus with brain-healthy matcha, a combination that takes healthy eating to another level. The perfect marriage of Hawaiian-style poke bowl and Japanese-style matcha will serenade your taste buds.
Pokinometry
The fresh raw seafood here will quench your appetite without letting you bank too many calories in a seating. Its refreshing display of food will also freshen up your mind and spirit, so wait no more: take yourself to one of its three locations in Jakarta and treat yourself to a bowl of Hawaiian goodness.
Greenery
Greenery is a casual healthy joint that happened through a collaboration between professional chefs and nutritionists. The result is a menu that is not only full of nutrients but also delicious and hearty.
Saigon Delight
Serving fresh Vietnamese delights, you will leave Saigon delight feeling full and refreshed. It has various Vietnamese salads and fresh spring rolls that are not only well-balanced but also delicious. Available in the Kuningan area, this place is the perfect respite for a lunchtime break.
Loving Hut
Originally hailing from Taiwan as a vegan fast-food restaurant, Loving Hut has several locations now in Jakarta, serving delicious Chinese-style vegetarian food. It also serves packaged lunches for those busy bees in Jakarta, so you can either grab one yourself or order online and have it delivered right into your office doorstep.
Warung Kebunku
This Indonesian style organic eatery is not only healthy, but also looks and taste delicious. The problem in Indonesia is that most people who wants to go on a healthy diet don't really have a lot of choices when it comes to Indonesian food that are rich in sauces and spices. In this restaurant, you can enjoy your favourite Indonesian food guilt-free.
See Also: 8 Dining Trend Predictions For 2019